'Love everyone,' we're told. Easier said than done! But if we could learn to stop seeing faults in others, it would be easy to cherish them.
Focusing on faults in others creates fault-lines in our relationships; too much pressure, and they can crack right open. In Eight Steps to Happiness, Geshe-la says:
Unfortunately we have become very skilled in recognising the faults of others, and we devote a great deal of mental energy to listing them, analysing them, and even meditating on them! With this critical attitude, if we disagree with our partner or colleagues about something, instead of trying to understand their point of view we repeatedly think of many reasons why we are right and they are wrong. By focusing exclusively on their faults and limitations we become angry and resentful, and rather than cherishing them we develop the wish to harm or discredit them. In this way small disagreements can easily turn into conflicts that simmer for months.
I don't think it's hard to see the downside of this fault-finding mind – but stopping it is another matter. After all, it's just so easy to see other's faults: they are so obvious! It's not like we go out looking for faults, right? They are just there!
Buddha said that living beings have no faults. Our immediate response may be, 'Clearly, Buddha doesn't know the same people I do!' – but it just takes a small shift in our view and we too can come to see everyone as faultless. The trick is being able to differentiate between a person and their delusions. To quote Eight Steps again:
Delusions are the enemies of sentient beings, and just as we would not blame a victim for the faults of his attacker, why should we blame sentient beings for the faults of their inner enemies? When someone is temporarily overpowered by the inner enemy of anger it is inappropriate to blame him, because he and the anger in his mind are two separate phenomena. … The only appropriate response to those who are driven by their delusions to harm others is compassion.
People behave in negative ways, there is no denying that – but it's not their fault, it's the fault of the delusions in their mind. If they were freed from those negative thoughts, their minds would be at peace and they would never wish to harm others. Harmful actions only arise from a state of suffering: so we should wish for everyone to be happy, then they would behave in the positive manner that we'd like from them.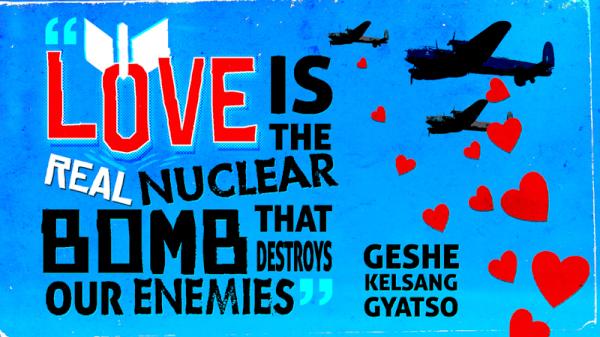 It's just a subtle change of perspective; but if we learn to recognise this differentiation between a person and their delusions, then we can start to see beyond their delusions to their pure potential. Focusing on that potential is better for us – it allows us to keep a peaceful, loving mind, regardless of people's negative behaviour – and it is better for them because by focusing on that potential we naturally help and encourage it to grow.
When we can see everyone as faultless, we have no external enemies. The only enemies are delusions – so we decide, 'I will destroy the inner enemy of my delusions, and help everyone else defeat theirs.'